Just because we are not able to take a holiday abroad at the moment, it doesn't mean that you cannot begin your journey.
Following the Easter Bank Holiday, we will begin a voyage of discovery, introducing you to worldwide destinations, cruises, rail journeys and some truly wonderful hotels.
So save the date(s) and join me and some of my travel industry colleagues whilst we reignite your passion for travel and tempt you with some Lomani exclusive offers.
Star Clippers will begin our event series at 7pm on Tuesday 13th April 2021
Sailing on board a tall ship yacht is unlike any other cruising experience and Alison Jared from Star Clippers will take you through this very unique but stylish way to visit Europe, Asia, the Caribbean and their latest destination to be added, Costa Rica.
To register for this event, please click here
Japan has gained, and continues to grow, in popularity with a recent poll indicating that it is high up there on holiday bucket lists.
Inside Japan are one of the leading expert tour operators to this fascinating country and one of their principal experts, Matt Spiller, will be joining me to take you on a whistle stop tour, that will whet your appetite for its culture, food, people and its ultra modern city life.
10am on Tuesday 20th April 2021.
To register for this event, please click here
Latin America is one of the most richly diverse and possibly one of the most beautiful parts of the world.  The peaks of the Andes to the Amazon Rainforest, Patagonian glaciers to moon-like deserts and idyllic beaches to unending salt plains, this corner of the world is home to many magnificent wonders and a huge array of wildlife. .
Latin Routes expert Gaynor Atherton has visited South and Central America and will be sharing her knowledge and experience of this destination with you in a one hour presentation.
7pm on Tuesday 27th April 2021.
To register for this event, please click here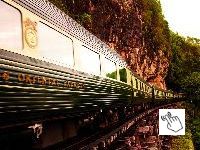 Welcome to the world of Belmond!  From secluded hotel santuaries to luxury safaris, rail journeys from a bygone era to the splendour of their river cruises along some of the most beautiful waterways in the world, Belmond has every travel indulgence covered.
Sales Manager, Manisha Rathod, will take you on a journey, exploring their products and resorts, many of which will come as a wonderful suprise as primarily Belmond is renownd for its celebrated train passages.
10am on Tuesday 4th May 2021.
To register for this event, please click here
JUST ADDED!!!
Canada is truly one of the most stunningly beautiful countries in the world and it is very much high up there on holiday wish lists for many.
Denise has in depth knowledge of this fabulous destinations and will take you on a 40 minute whistle stop tour this evening via Zoom with plenty of time afterwards to answer all of your questions.
To register for this event, please click here