It's that time of year when engaged couples are spoilt for choice every weekend as to which wedding show they should attend to give them ideas for venues, cakes, wedding cars….and, of course, honeymoons!
Many couples these days prefer to take their vows somewhere exotic, in far and distant lands where white powdery sands and tropical climates appeal over the, often riskier, weather of the UK.  Guests often fly out to join them for their big day and make onward arrangements to make the most from their journey whilst the bride and groom stay and carry straight on in to their perfect honeymoon.  Sandals Resorts have this totally covered by offering WeddingMoon® packages!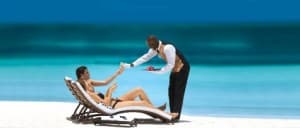 When helping clients to select their honeymoon, we take in to consideration average weather systems at the time of year the couple want to travel, if it ticks their wish list in terms of culture, accommodation standards, idyllic beaches, the distance that they want to travel….along with all other detail that will ensure that their honeymoon is as perfect as it can possibly be.
Popular honeymoon destinations include the Maldives, Caribbean, Mexico, Mauritius, Bali, Thailand, Hawaii and the Seychelles, however cultural destinations such as India, Sri Lanka, Japan and Latin America are also becoming increasingly popular each year.   Where there is more time to travel that little bit further, Australia has everything covered – culture, fabulous cities, scenery and of course, the magnificent islands of the Great Barrier Reef.
Some cruise companies offer weddings on board the ship.  Twinned with a stay at an idyllic location before or after disembarkation, this makes a perfect option for a wedding & honeymoon abroad combination.  If a bride and groom want fine dining, exceptional service and have every whim catered for, a honeymoon on board a luxury cruise ship offers the ideal solution, with Silversea, Regent and Crystal cruises just some those waiting to pamper their special guests.
Lomani is the Fijian word for "Love".  It is our love of travel that makes it a real pleasure to guide engaged couples through the overwhelming choices they face when contemplating where to take their vows abroad or indeed when selecting a destination, itinerary or suitable brand that offers that perfect fit for a honeymoon.
If you are yet to decide on the location for your special day or your honeymoon, contact us today.  You never know…. Lomani Island Resort in Fiji could be your destination!