Reunion holidays are immensely popular these days.  The power of social media allows families and friends to stay connected, which whets their appetite for a reunion.
The logistics of trying to arrange a reunion that suits everybody's budget and taste, let alone also having to take in to account airline, train or ship networks, can make arranging what should be a pleasurable holiday,  a complete nightmare.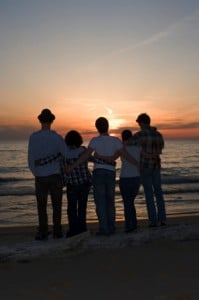 From city breaks to hiring cottages, booking detailed international itineraries or making cruise group reservations, we can arrange as much or as little as you wish.  Where some members of the group make their own travel arrangements, we are happy to tie in just the ground element of the trip thus ensuring a smooth and worry free reunion for all!
If you are would like to arrange a reunion with friends, colleagues or family either in the UK or somewhere abroad, then we are here to help create some treasured memories.  We will even assist you with additional requirements such as restaurant reservations, an arrival drinks party, a round of golf or any other activities that needs to be arranged for the group… just ask!