The North Wales Charity Trek began day five of their trek at Nightingale House Hospice in Wrexham yesterday and Lomani MD, Lynne Swinnerton, called in to cheer them on their way on their penultimate day.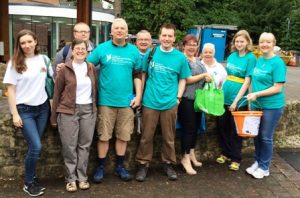 The trek route began in Holyhead on the 24th of July and will end in Conwy this evening and during those six days, the 'trekkers' will have covered approximately 263 miles.
Each day begins with a 5 mile walk followed by an array of other means of transport that included buses, trains and vintage cars.
Debbie Hunt and Mark Powell are valued clients of Lomani so not only have we made a donation but also felt that a little sustenance, in the form of bottled water and fruit, would also be a help to keep them and their fellow 'trekkers' going through their fifth day.
The funds raised will go to six charities and will be fund matched by Barclays on a £4£ basis…
BPositive, Leukaemia Charity

Nightingale House Hospice
If you feel that you would like to contribute, please click on any one of the above links – your support would be hugely appreciated.