Re-live the romance of travel in a bygone era on a magical journey on the Royal Rajasthan on Wheels. Travel in style through Rajasthan, the 'Land of Kings', witnessing a legacy of the Mughals' penchant for grandeur; for sheer spectacle, no other region in India compares. Enjoy the irresistible mix of flamboyant architecture, bold colours and a vibrant local culture. Traditional dress is more prevalent here too, with the men wearing bulky turbans dyed in vibrant colours, and the women are decked from head to toe in embroidered textiles, mirror-work and heavy silver jewellery.  Travel by luxury train is a novel and hugely enjoyable way to see this country's most iconic sights.

Launched in 2009, this lavishly decorated train, where all guests are treated like VIPs, is fully equipped with two bars, fine dining, offering a range of cuisines from traditional Rajasthani and Indian to Continental and Chinese, and a spa offering a variety of massages and therapies for when it's time to be pampered. The spacious deluxe cabins are all richly furnished with full en-suite facilities, or upgrade to a super deluxe cabin for an even more luxurious stay.

This 7 night itinerary begins in Delhi and features a visit to the majestic hilltop Mehrangarh fort in the blue city of Jodhpur, the palaces, temples, gardens and lakes of Udaipur, the chance to spot tigers on a game drive in Ranthambore, the colourful bazaars of Jaipur, Rajasthan's capital, the ornately carved temples of Khajuraho, a boat ride on the holy Ganges in Varanasi and the beautiful and iconic Taj Mahal. Journeying overnight, each morning brings you to a new destination allowing maximum time to explore these wonders.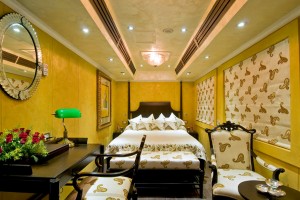 We have some fabulous itineraries that feature the Royal Rajasthan train.  Why not contact us today to start planning your holiday of a lifetime.