Carrying a maximum of 72 passengers, the richness of South Africa is best experienced on the opulently appointed Rovos Rail Pride of Africa fleet.
The majority of passengers will have the pleasure of departing or arriving in to Rovos' own private station at Capital Park, Pretoria.   A gracious colonial-style railway station, rail enthusiasts will be captivated by its small railway museum as well as the vast carriage and locomotive sheds. For passengers embarking, a sense of occasion is created by a champagne reception in the elegant lounge prior to stepping aboard.
Each locomotive has its own character, charm and story and is named after a Vos family member – the company owners.  The carriages are restored originals of a bygone era of rail travel.  In addition to the sleeping cars, there are two dining cars, a kitchen car, a smoking lounge and a non-smoking observation car at the end.
Sumptuous silver-service dinners are served with an emphasis on local delicacies such as game, complimented by fresh and seasonal ingredients and a delicious South African wine to accompany each course.
All suites are air-conditioned with en-suite facilities and all offer every modern convenience with fittings and facilities of the highest standard.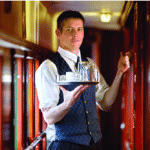 With routes available that include Victoria Falls, Cape Town, Durban, Dar es Salaam Swakopmund and Cairo, there is no finer way to travel other than on board the opulent Pride of Africa.