In the early 1900's, Switzerland became a popular holiday destination for those who could afford it.  The infrastructure had to be improved to support the growth in tourism and as a result the railways in Switzerland grew.
In June 1930, the first 'Glacier Express' journey from Zermatt to St Moritz began, however due to the weather in the winter months, it was impossible to keep the Oberalp pass open therefore the service was only operational for part of the year.  It was as recent as 1982 that a year round service was inaugurated following the completion of much construction, thus enabling trains to safely negotiate the Furka Pass and Oberalp pass.  The Glacier Express tends to take a short break from late October through to mid December, however local trains can be used on this route during this period and entails a change or two en route.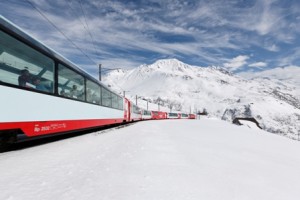 The Glacier Express journey across the Alps takes around 7.5 hours and during this time, the train will cross 291 bridges, pass through 91 tunnels and ascend the 2033m high Oberalp Pass.
A journey during the summer months will reward passengers with views of rolling Alpine flower filled meadows, vast lakes, deep gorges and snow-clad mountain peaks.  The stunning scenery during the winter months when much of the surrounding countryside is glistening with snow is equally as beautiful, we therefore suggest you experience the Glacier Express in both seasons to fully appreciate this wondrous journey.
One of the many highlights en route is the famous Landwasser Viaduct; a curving structure of six limestone arches, towering sixty five metres above the Landwasser River.  This remarkable structure leads the trains directly in to the Landwasser Tunnel.
There are two classes of travel to choose from on the Glacier Express.   Second class carriages are light and spacious and designed to carry a maximum of forty-eight passengers.  The six tables (four people per table) each side of the carriage are perfectly positioned next to the large panoramic windows, which extend in to the ceiling of the carriage.  First class carriages are configured with six four-seat tables and six two seat tables.  With just thirty-six passengers in a carriage, they are more spacious and the seats are larger and have more legroom.  The windows in first class are also larger than in second class.
We are able to source some fabulous itineraries that incorporate the Glacier Express.  Contact us today for 2016 availability.