I recently spent a week in Abu Dhabi with my family and, having visited Dubai a few years ago, I didn't know what to expect of this up & coming destination….but I loved it!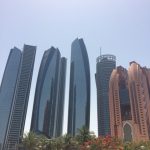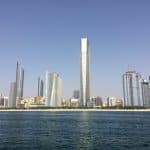 As yet, Abu Dhabi feels 'small' in comparison to its near neighbour and nothing feels too far away when moving around this city, however it will soon be clipping the heels of Dubai.
The Emirates Palace Hotel is, quite simply, the epitome of luxury.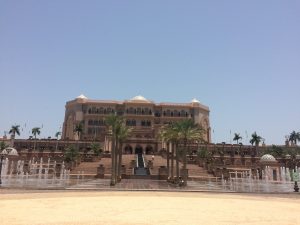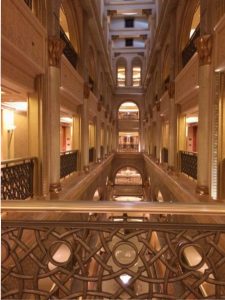 Our Pearl sea view room was perfect…a really good size for a family with magnificent views not only of the sea but also the Presidential Palace; truly breathtaking when lit up at night.  The friendly butlers at the Emirates Palace are there to provide you with anything you need at any time… with fresh fruit being replenished in the room daily being a most welcome added bonus.
There were two pools, both of which allowed children however the Cascades Adventure in the hotels west wing was probably the most popular with families as the slides and covered baby pool kept children entertained for hours.
During the day we visited the Sheikh Zayed Grand Mosque, which can only be described as magnificent and, without question, one of the most beautiful buildings that I have personally ever seen.  The array of colours reflect off the splendid crystal chandeliers and on to the cooling white marble walls whilst your feet sink in to the pile of the world's largest hand-knotted carpet.  Allow at least two hours for your visit to the mosque as time to simply sit, admire and feel in complete awe of this majestic architectural master piece is essential.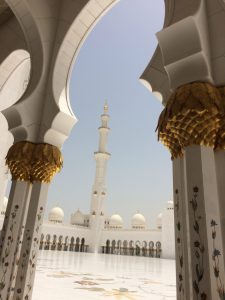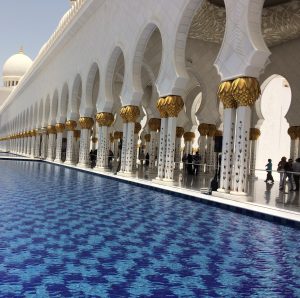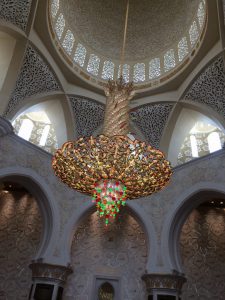 The most spectacular views of the city are from the Observation Deck at 300, Jumeirah at Etihad Towers.  You can enjoy afternoon tea whilst the miniscule world beneath continues with its busy day.
Another relaxed way of seeing the city skyline is by dhow – a lovely hour is spent following the Corniche and watching as work colleagues, families and friends congregate for some leisure time.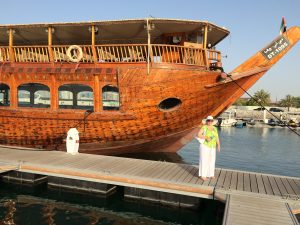 A visit to Abu Dhabi would not be complete without a visit to the F1 Yas Marina Circuit.  For F1 fans, the ideal location to stay is the Yas Viceroy hotel where some rooms literally have a birds eye view of the circuit.  If you prefer alternative hotels locations but would still want to visit, you can either purchase tickets to visit the circuit or you can simply go to the hotel and stand on the bridge over the circuit that is adjacent… a refreshing drink or perhaps some lunch at the hotel is then highly recommended.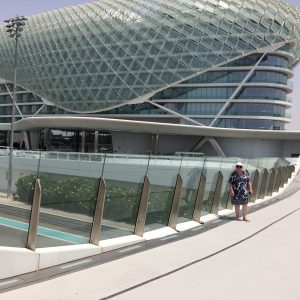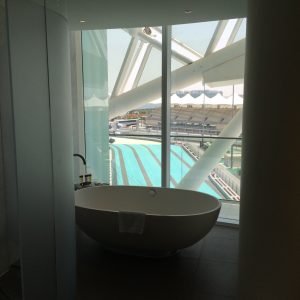 As a family, we spent a great day at Ferrari World and Yas Waterworld. with approximately 3 hours at each. Depending on the ages of the children, some rides and experiences in Ferrari World would entail a longer stay, however everybody could quite easily spend a full day at Waterworld as even little ones would enjoy the large pool and wave machine, with cabanas available to hire to keep tender skin out of the sun during the heat of the day.
For our last three nights in Abu Dhabi, we stayed at the St Regis Saadiyaat; primarily a beach resort, with the equally lovely Park Hyatt just a short distance further up the beach.  Both hotels provided excellent facilities, with both suitable for families and only a 20-30 minute taxi ride away from the city centre.  Again we opted for a sea view room, and this meant that we were able to witness some fabulous sunsets from the comfort of our own balcony.
Alcohol is only served in the hotels and it is extremely expensive.  Look out for the "Ladies nights" in various bars as these offer significant savings on alcoholic drinks.  If you don't manage to secure any half board offers, which invariably you can at varying hotels during different times in the year, then be prepared for the fact that dining in the hotels can also be quite expensive.  Venturing out to eateries in such places as the malls is greater value for money and taxis are particularly inexpensive. Temperatures at the end of May did reach 42-43 degrees celcius, and during the summer that can go up 50 degrees or even higher.
Both Dubai and Abu Dhabi make wonderful winter sun destinations and both are serviced well, not only from London, but also some of the regional airports with direct flights from Etihad and Emirates. We had a wonderful family holiday in Abu Dhabi – small enough to see it during a stopover, just perfect for a city stay and ideal for a fly and flop holiday.
With  an average flying time from the UK of around 6.5hrs, what are you waiting for.  Contact us today to book your stay in Abu Dhabi!