Known as The Big Easy, New Orleans dates back to the 1700's representing more than 250 years of French, Spanish and American culture. Bohemian, opulent, mysterious, historical and indulgent are all words that are used to describe New Orleans.
World renowned for fabulous food including Cajun, Creole and classic French cuisine, you can enjoy casual to fine dining experiences.  Let your ears have a feast of their own with the sounds of Jazz, Rhythm & Blues, Gospel and Dixieland Jazz whilst sitting in one of New Orleans' fabulous courtyards dating back to a bygone age of elegant and gentle living. As you walk through the historic districts of New Orleans you will experience the architecture, history, culture and hospitality that the south is renowned for.
Each district contributes stories that make New Orleans and her history so very colourful and flamboyant from the genteel Garden district with its picturesque homes to the Arts/Warehouse District offering cultural feasts amongst the galleries and museums and the French Quarter where parties are in abundance and fun a way of life.
Museums, natural history, street cars, historic districts, theme parks, shopping, riverboats and Mardi Gras are just some of the many attractions that the Big Easy has to offer.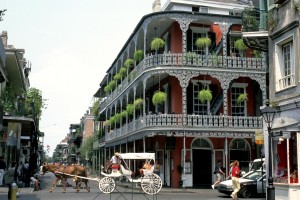 The city that never sleeps, New Orleans is a 24 hour city, one of only two American cities……you can have it all…detox and retox at your fingertips!!