Hong Kong,  Asia's world city, offers you the opportunity to experience a vibrant living culture featuring a unique fusion where 'east-meets-west'. Instilled with an exciting duality of a modern city's vitality enhanced by a traditional society's historical richness and colour, this incredible destination is sure to amaze you.
Hong Kong boasts over 11,000 restaurants meaning visitors can eat out three times a day for eleven years and never eat at the same restaurant more than once!  With a variety of delicious cuisines and price ranges to choose from, and over 60 Michelin starred restaurants including the high-end to the local street cafe's, there will always be something to satisfy every palette.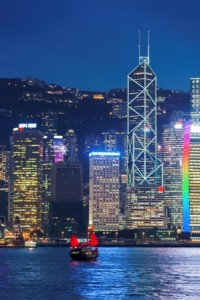 There are many attractions in Hong Kong, from the traditional temples and monasteries to the shopping markets were many bargains can be found. Visitors can also enjoy a spectacular multimedia display, 'The Symphony of Lights' every night on the beautiful Victoria Harbour, which has been named the 'World's Largest Permanent Light and Sound Show'.
Asia's world City is also blessed with a striking natural beauty, from its iconic harbour to the stunning mountain views, idyllic islands and serene beaches of its great outdoors. All this creates a destination where a great variety of travel experiences are to be had on every visit.