We arrived in Barcelona over the Easter weekend.  The transfer from the airport was efficient and speedy.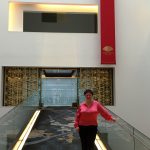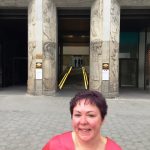 The entrance to the Mandarin Oriental, our home for the next three nights, was for superstars and this was precisely how we felt every time we came back to our luxurious abode.  The carpeted covered walkway lead guests towards to the gold embossed doors, and directly in to the reception and concierge area where you were greeted by a genuinely helpful and friendly team of staff.
At the earliest opportunity, we meandered down to the Plaça de Catalunya – just five minutes away if you prefer a more energetic 'meander'.
Our pre-purchased transport pass vouchers were easily exchanged for actual tickets and we were now all set. The Plaça was chaotic with sightseeing busses coming and going, tourists taking in the ambience of the heart of the city and locals simply trying to navigate themselves through the throngs of visitors. The evening was fast approaching and the kick off time edging ever closer.  Using the mobile apps on our phones to take us the most time efficient route, our walk down to Plaça Reial took around 20 minutes.
The map directions took us along a small section of the infamous La Rambla. It was a Saturday night on a bank holiday weekend and you couldn't put a pin between people, and most were heading in different directions – pandemonium but exhilarating!  The navigation maps on our phones were an extremely helpful asset to have and were so much easier to use than trying to hold and read a map whilst the rain that night continued to fall.  My tip would be to use this resource as much as possible on any city break if you have it available to you.  Walk mode makes the majority of places easier to find and often saves time too. The restaurant for our first evening had been recommended by a true local and our soon-to-meet teaching chef, Phillipe.
The Quinze Nits restaurant was one of many in Plaça Reial and all were equally busy, whether sitting inside or out.  The service was slow and certainly not cheery but the menu was extensive and the meal delicious.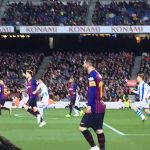 A cab up to Nou Camp was the quickest and driest option that night.  With some pocket money burning a hole my sons pocket, a stop at the adjacent club store was our first port of call.  After a not-so-brief shopping encounter, we made haste in to the ground and not having appreciated the size of the stadium upon first glance, our power walk, whilst trying to locate the specific entry gate for our seats, soon developed in to a sprint; we made it to our seats with seconds to spare before the whistle blew for the start of the game. The atmosphere was electric and being situated in front seats, Señores Messi and Suarez were within touching distance on a couple of occasions – something you don't get to experience with a regular daytime stadium tour. Some friendly locals walked with us to the nearest metro station after the game, which was located about 10 minutes from Nou Camp – the trains were crammed but buzzing with strangers all discussing the match.
After a lovely breakfast in the very tasteful Blanc restaurant the next morning, we made the few short steps across the street to the Barcelona Turistic bus stop – today we were sight seeing!  The rain had cleared but the wind was blowing so should we sit upstairs or down?  Up, of course – we wanted the bird's eye view!
First stop Plaça d'Espanya, followed by the Catalunya National Art Museum where you have one of the most spectacular view across the city.  The Montjuïc and Port cable cars were both closed over that weekend so we had to take the bus route back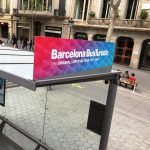 down to the coast where we stopped for lunch at Maremagnum.   The wind was a little chilly and only outside areas had tables available so we hopped back on board the next available Turistic bus and continued our journey, switching from the red route and on to the blue in order to reach Gaudi's Casa Milà and the spectacular La Sagrada Familia.  We hadn't purchased entry tickets for either in advance and the queues and wait times to those hoping to just walk in were in excess of an hour.  If you are therefore planning to experience the interior of either of these renowned architectural masterpieces, then purchase tickets before you travel.
Tonight we dined at O'retorno – a mere 20 minute stroll from our hotel.  Very little English was spoken, which wasn't a problem at all.  We loved it as the restaurant was packed with locals enjoying superb Spanish cuisine.  I would certainly recommend this restaurant to anybody wishing to escape the main tourist areas where prices are high and quality often mediocre.
Today was mine and my husband's turn to relax whilst our son, Jake, learned how to make a three course Spanish meal.
We met our local master chef, Phillipe, at the exit of the metro station closest to his home.  After just a five minute walk to where this cooking 'master class' would take place, we felt we had known him for years.  We observed all three courses being created with great interest, picking up tips for us too along the way.  The first course was most welcome as tummys were beginning to rumble: fresh crusty bread softened by the juice of fresh tomatoes – delicious!  The main course was a mouth-watering paella, served with a fresh jug of sangria placed far too conveniently on the table. I convinced myself that it would be rude to decline a glass and that I felt certain just a few sips would, of course, assist the digestive process!!!  Dessert was Crema Catalana – the perfect end to a perfect morning.
We headed back to the hotel with haste!   An Easter egg hunt had been arranged for the smaller guests and my ever competitive son wanted to be there for the start in order to maximise his chances of finding the most eggs! On arrival, the hotel had brought the hunt inside due to the inclement weather and the pastry chef had set up tables with an array of piping bags containing coloured icing and various creative decorations ready to enhance an abundance of pre-made cupcakes. The children had a wonderful time, all heading out with generous amounts of eggs and invariably, more than one cupcake each too.
Having enjoyed so much Spanish cuisine over the first couple of days, we gave the youngest family member the choice of restaurant tonight – Hard Rock Cafe on Plaça de Catalunya it was!  Buzzing with atmosphere and with queues outside, we were thankful that we had made a reservation in advance.
Tuesday morning and it was our last few hours in this wonderful city.  Outside our hotel, the pavements were deep in colour with flower stalls, peppered with book stands in between.  St Georges day has been claimed by the Catalans as theirs and they celebrate it most spectacularly. Gifts are exchanged – a flower for a lady and a book for a gent.  Many of the side streets were closed off to traffic in order for visitors and locals alike to take their time browsing.  Some buildings had red and yellow flower collages draped from balconies and windows in celebration.  Along La Rambla, live TV programmes were being beamed across not just Calalunya, but also the whole of Spain.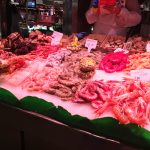 A worthwhile diversion was in to Mercado de La Boqueria where the colours, aromas and tastes of fresh ingredients was an assault on the senses…absolutely devine and a foodies paradise!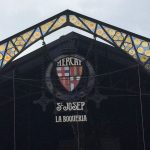 I didn't think that Barcelona could exude any more character and spirit than we had already experienced but being there on Sant Jordi day proved this to be incorrect and on this occasion, I was more than happy to be proved wrong!